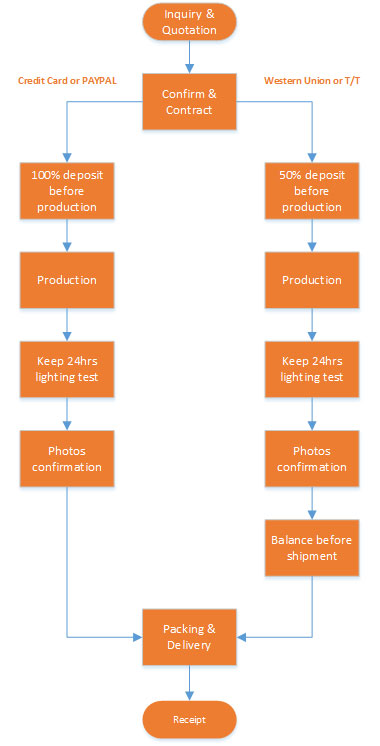 Though on our FAQ page we had list our trading process, some clients still ask for the detail, so maybe we need to make it more clear.
Our trading process is:
Step 1: Confirm with clients all the details of the signage;

We need the vector file of the signage design, if you don't know what is vector file, please visit Vector graphics - Wikipedia, the free encyclopedia. You can get it from your signage designer. If you don't have the file, please tell us the content of your signage and which font you want to use.
We need to know the total size of your signage, if you have no mind, please give us the total size of the space you would install the signage
We need to know what kind of signage you needed. You can find our main signage products on http://www.businesssigns.net/ and you can find some signage case photos on http://gallery.businesssigns.net/. If you can not find the signage you needed, please contact with us and send us the sample signage photos
The Qty of the signage
The deadline of the signage case
Whether the signage would be used near the sea

Step 2: Send the quotation file to clients;
Step 3: Get the confirm from clients;
Step 4: Send the invoice file to clients;

We need the name of contact person
We need the company name
We need the delivery address (Could not be a PO Box)
Zip code
Phone number

Step 5: Clients send out the deposit;
Our payment term is:

Credit Card or PAYPAL: 100% deposit before production
Western Union or T/T: 50% deposit before production, balance before shipment
If you want to use the credit card to finish the payment, you can use the PAYPAL, but PAYPAL may need about 3-5 days to review it, depend on the PAYPAL.

Step 6: Confirm getting the deposit from clients then begin to produce the signage;

We mainly finish a signage order in 15 business days, according to the signage order details

Step 7: Finish the signage and send the signage photos to clients;
Step 8: Clients confirm the signage and send out the balance;
Step 9: Confirm getting the balance from clients then send out the signage products by delivery company;

We mainly use DHL for door to door delivery, sometimes also use UPS, FEDEX ect
DHL need about 3-5 days for the door to door delivery service
We also can use the air freight or sea shipment

Step 10: Give clients the waybill number of the signage case.