Minimum stroke width is the Min. distance between the two edges of a stroke, measured perpendicular to the stroke center line. It decide whether the design drawings of business signs could be the really signs products.
Although not often, but several times a month customers have similar questions, such as: Why can't I produce the sign exactly as I want it? Why do my sign have to be enlarged for production? Why can my sign be produced to this thickness? And so on. These issues are generally due to the sign's minimum stroke width limitation.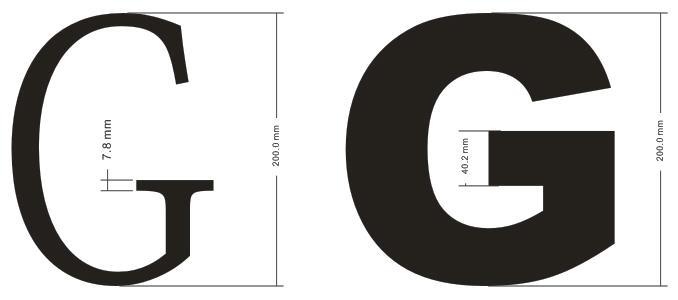 In order to better understand, please look at the  above drawing, as you can see, the image above two letters are exactly the same height of 200mm, but right the minimum stroke width reached 40.2mm, while the left only 7.8mm.
If you need to make luminous sign with inside LED light and letter shell, it is usually the case, we need a minimum stroke width of the letter to 12mm, so that it will have enough space for us to place LED lights and wire connections. Of course, for those did not meet the minimum stroke width of 12mm, it is still possible for the production of lighted signs, but this sign needs a bottom box, the LED light to be placed inside the bottom box, then put the acrylic letters inlaid in the bottom box, so the light can be emitted from the bottom box to show up through acrylic letters.
In addition the minimum stroke width also determines the processing methods can be used, we now have seen Fabricated Signs are made by welding, workers need to use welding gun to reach inside the letter shell for welding, either soldering or TIG welding , the welding gun has a certain size, if the sign's smallest stroke is very small, while the thickness  need  to be high, then the welding gun unable to reach inside the stroke, so there was no way this sign can be produced. Even for the cutting signs, the minimum stroke width is also affected by material, thickness and cutting machinery processing capacity, usually the metal thickness within 10mm can be laser cut, and more than 10mm metal need to be precise line cut.
So, when your sign is SCRIPT font letter or Serif font  letter you need to pay special attention to it, if you cannot provide more installation space, then your logo will only be made by a special process. This is decided by the minimum stroke width.
Of course, when there is not big difference between a minimum stroke width and process requirements, we will use the process maintain the same overall size, but the stroke width to be modified appropriately, of course. We will contact you to obtain your consent before such operations.