Based on the PayPal Seller Protection, we have to change the PAYPAL part of our payment term.
If you want to use the PAYPAL or Credit Card to finish the payment (We use the PAYPAL to accept the payment from Credit Card):
The payment term would be: 100% deposit before production.
You must have a PayPal account, before you finish the payment, please log in your PayPal account at first. That means we would not accept the payment from a guest account of the PAYPAL. If you don't know how to create PayPal account, please visit: How to Set Up My PayPal Account?
Please type the correct delivery information in your PAYPAL account, because it would be the only address we will send the signage products to.
DHL door to door delivery service would be the only choice for the shipment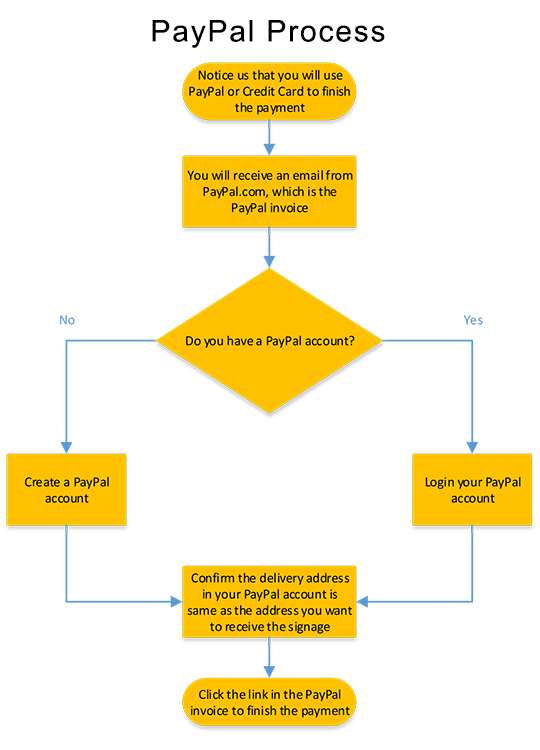 We will use the PAYPAL invoice to notice you to finish the payment. The PAYPAL will charge 4.4% + usd$0.30 as the transfer fee, and our quoted fees are for products only, therefore your final invoice will be our quoted fees plus these extra fees. For example, if you order $100 of products and you will be invoiced total: (100 + 0.3)/(100%-4.4%) = $104.92
So if our accounting found that the payment you sent to us by PAYPAL is from a guest account or the delivery information in your PAYPAL shipping details did not fit the delivery information you told us or you did not finish the payment by the PAYPAL invoice system, our accounting would refund your payment. And unless our accounting confirm that we had received your payment and the payment is 100% fit the PayPal Seller Protection, we will not begin to produce your signage.
If you have any question about the PAYPAL or want to know whether your credit card could be used on PAYPAL, please contact with PayPal.com directly!
BTW, if you can use the Western Union or T/T, the payment term is still as: 50% deposit before production, balance before shipment. So if you need not to use the credit card to finish the payment, maybe the PAYPAL is just a plan B for you.
Thank you very much for your trust.